Table of Contents
The daily bath…
Worth knowing about bathtubs,
What constitutes the quality of a bathtub?
RockSolid™
Accessories for bathtubs,
A little more technical,
Self-control
The daily bath…
Bathing is an important part of our daily lives. The daily bath has a function in well-being as well as in hygiene, and if you are not familiar with the well-being a warm bath can provide you have missed out on something important in life.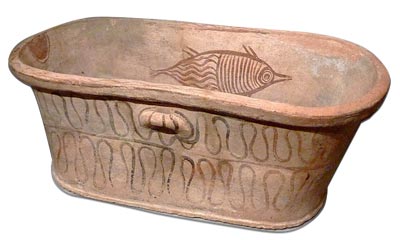 Over time bathtubs have evolved from being a built-in feature in a room over wooden tubs to being an aesthetically pleasing "piece of furniture" made of modern materials. One of the earliest preserved examples of what we recognize as a bathtub is a approx. 1.5 m long painted ceramic vessel found in Crete.
What we see today are bathtubs with or without integrated taps and shower, made of acrylic, RockSolid artificial stone and other modern materials that fit a modern lifestyle.
Worth knowing about bathtubs
Nordkap Livings bathtubs are either made of acrylic or a type of composite called RockSolid™. They are available as free-standing tubs or baths intended for installation, to be placed against a wall or in a corner. This provides options that cover most needs. Some bathtubs have an integrated tap with hand shower and armature, and some are also available as a spa with jets and a heater.
Nordkap Living has a large selection of well-designed bathtubs.
What defines the quality of a bathtub?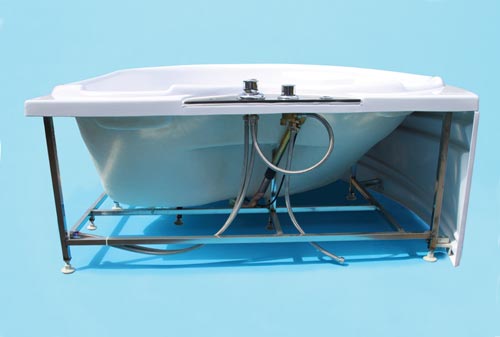 The stand
A solid stand ensures that the tub is fixed. Nordkap Livings bathtubs have racks with numerous support points. All corners are supported by continuous bars that stand on the floor with adjustable legs. This ensures a stable tub that does not tilt. The corner supports also prevent the tub from sagging when filled with water.
Front panel
Some bathtubs are equipped with one or more front panels. All front panels are screwed to the stand. This prevents the panels from falling off prematurely and causing damage as a result. Easy access is given to service the tub by loosening the screws.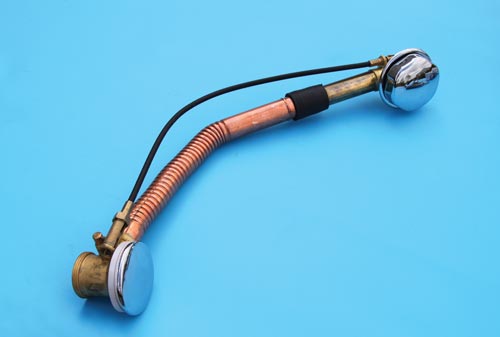 Drain
All drains are made of solid brass and the visible parts are chrome-plated. Compared to chrome-plated plastic, it gives a longer life and a more solid appearance.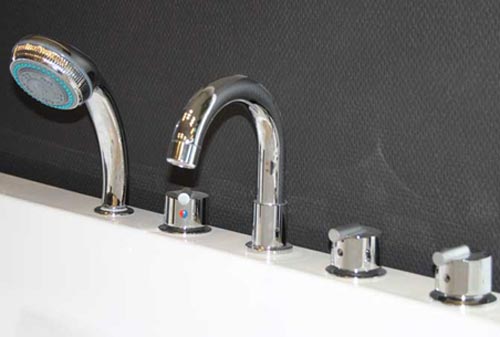 Integrated mixer
Some bathtubs have integrated taps (see the product card for each product.)
In addition to being an aesthetically pleasing option, it has a hygienic side benefit too. With this choice, the shower hose is hidden away and does not hang down inside the tub, where it can produce limescale deposits. It also prevents soap residues from settling on the hose.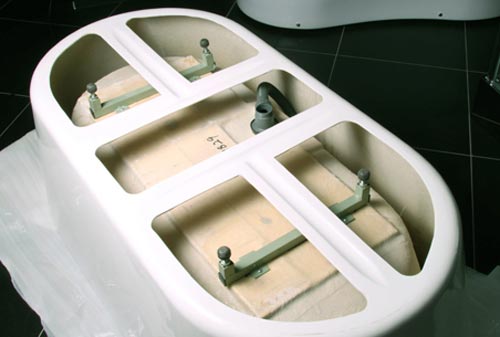 Space for a drain hose under the bottom of the tub
The tub shown is an acrylic bathtub, but the same applies to stone bathtubs.
The bottom of the tub has space for a drain cup or a water trap to be mounted under the bath.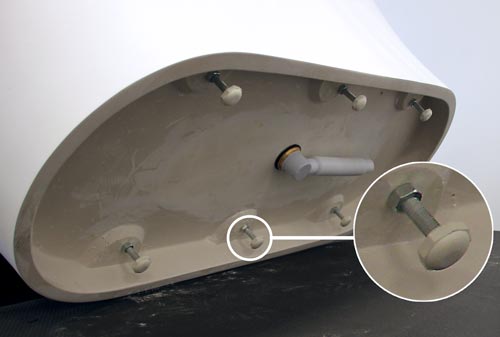 Adjustable legs
The bath shown is a stone bathtub, but the same goes for all bathtubs.
The bathtubs are equipped with adjustable legs, which means that the bath is also stable on a less even floor; when there is a minor drop on the floor.
Rock Solid™
Stone bathtubs from Nordkap Living are made of a composed material called Rock Solid™, which also goes by other names such as "composite" or "engineered stone" or "Solid Surface". The name composite is used for many other compositions made either by a homogeneous mixture of the materials it consists of, or by combining alternating layers of different materials. Reinforced concrete or plastic reinforced with fiberglass are examples of composite materials.
RockSolid™ has more qualities than the well-known "solid surface-materials": Resistance to scratches and scuffs. Long-lasting color. Soft finish. A surface with closed pores, which makes it easy to clean and maintain.
Technical description: RockSolid™ is a strong rock mass made from a mixture of 70 % granite or bauxite granules, as well as 30 % heat-cured synthetic resin with a high content of calcium. The stone mass is heated and poured into silicone molds. After cooling the rock mass is hardened and the product is now stable and hardy in resisting scratches and wear. The final sanding and polishing gives the surface a pore-free, impenetrable hardness – along with a lovely finish.
Accessories
There is a selection of accessories for bathtubs ranging from cover drains and bottom valves for shower screens.
Most bathtubs come with a drain without a water trap. If there is no water trap in the floor drain, the supplied drain can be replaced with one that has an integrated water trap.
If you combine the bathtub with a shower, it is wise to add a shower screen adapted for bathtubs. They are available in clear and frosted glass.
A little more technical…
Water supply
If the tub has an integrated armature, the water is supplied with soft hoses. The water connection can be located on or inside the wall up to five centimeters below the top of the tub.
Water pressure
A bathtub does not require increased water pressure. A distributor determines whether the water comes out of either the hand shower or the tap (see the model description on the product card).
Location
Bathtubs should be placed in a waterproof room with a floor drain.
The drain
The drain can be placed anywhere under the bath. To ensure that there is space for a possible water trap, it is a good idea not to place the drain just below the drain in the tub (see the drawing on the individual product).
Self-control
Upon receipt the customer must check that the packaging is intact and no damage has occurred to the product during transportation. Before installing you must ensure that all hoses and cables are placed correctly.
The drain hose is usually fitted for transport but should be fitted properly and sealed so the hose has the correct direction in relation to the floor drain.