The best of bathrooms, spas and saunas in Malaga
Bring the dream home with you
If you are looking for spa, sauna or something new for the bathroom I Malaga, we have what you desire. Our showroom offers 800 m2 of the best of everything from swimspas to outdoor saunas.
Behind the large glass front we offer you the most spectacular exhibition of all kinds of spa, traditional and infrared sauna and everything for the bathroom. Luminaires, glass shielding, bathroom furniture, limited only by your imagination. And we offer the most professional counseling for both private and professional buyers.
You find us in the town of Fuengirola south west of Málaga and east of Marbella. With an exact address at C/ Verónica 13, 29651 Mijas in the Mijas Costas district just a stone's throw away from the Autovía del Mediterráneo (A-7) highway, you will find us in no time.
Even though the weather in Malaga and Marbella is usually amazing you can never avoid either rain and grey weather. Break free from all limitations when you want to spoil yourself – take the dream home with you.
Spa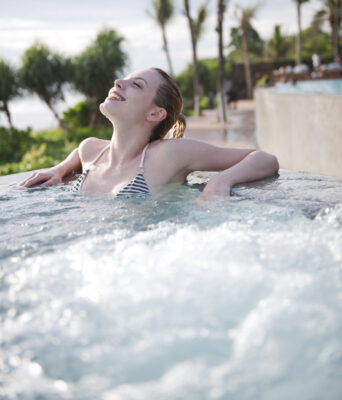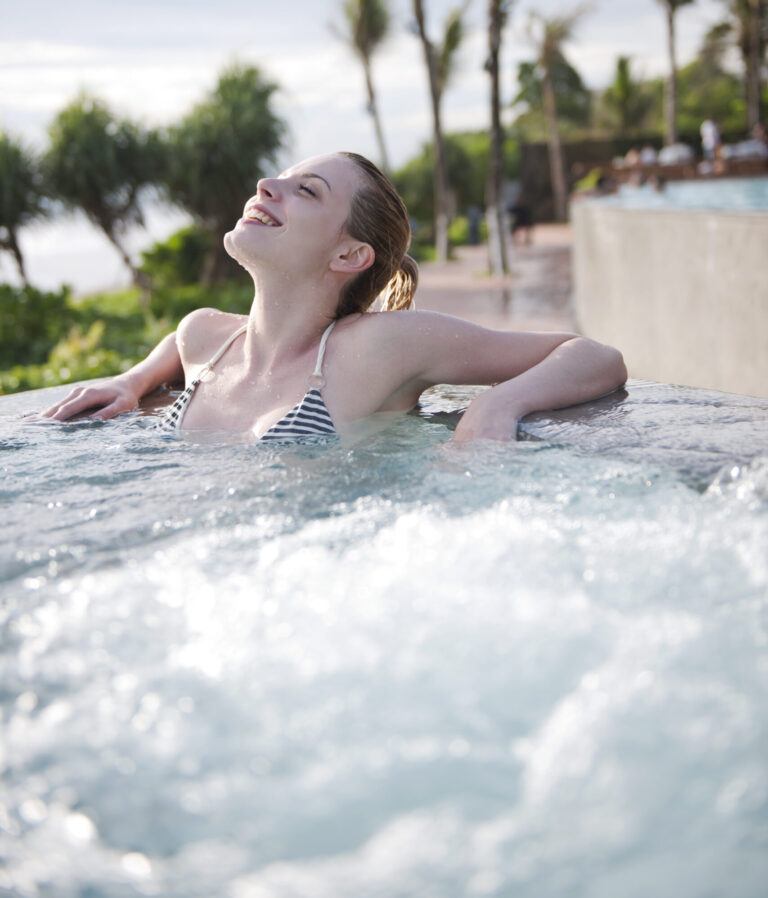 There are a lot of different kinds of spa today, but it is common to them all, that they use the soothing powers of water.
When you say the word spa, many think of sitting outside in a steaming hot bath (hot tub). We have two variations of these – wilderness spas and modern outdoor spas.
We build our wilderness spas of cedar. This guarantees you a durable spa with minimal needs for maintenance. Furthermore, our wilderness spas are unique as they are equipped with both filtering systems and electric heaters. A wood burning stove heats up the water quickly, and the electrical heaters keep the temperature steady. This gives you the perfect combination of inexpensive heating and without the risk of scalding.
Modern outdoor spas are often built of acrylic and you get a lot of extra comfort options. Nozzles give you massage functions, LED-lights provide therapeutic lighting, you can buy Wi-Fi and phone links so you can operate the spa from inside the house… It is all up to you to find out what extra features, you desire.
Swim spas are often divided into two sections: a regular spa and section with powerful nozzles that can create current in the water making it possible to swim. Not all swim spas are divided like this, but they always have the classic spa in one end and the current nozzles in the other.
The spa section has all the comforts of a regular modern spa like massage functions, heating and a lot of other things. The swim section is created to give you most of the same options you get from a swimming pool. All of the water is heated, and you can adjust the power of the current.
Dive into our amazing selection of outdoor spas, hot tubs and swim spas right away!
Sauna
Sweat lodges have existed for centuries. The saunas we know best originate from Finland, where you heat a tree cabin to very high temperatures. Modern saunas are built of wood and are heated to as much as 100˚C. In order to cope with temperatures of this level, you throw water onto heated rocks and the resulting vapor makes it easier to endure the heat. The difference between a sauna and a Steam are the temperature and humidity levels. The humidity in a Steam can reach 100 %, so temperatures have to be kept at around 40˚C to avoid scalding.
Infrared saunas work by emitting infrared radiation that heat us. The temperature in the room rises in an infrared sauna as well, but it maxes out at 70˚C. Therefore, if you struggle with the very high temperatures of a regular sauna, an infrared sauna is a great alternative. Moreover, increasing amounts of scientific research indicates that infrared treatment has some very beneficial properties regarding soothing physical infirmities like muscle and joint pain.
All of our saunas are built of the finest wood possible to ensure long durability and perfect conditions.
Find the traditional or infrared sauna for you and enjoy the relaxing and healing power of this ancient practice!
Bathroom
Maybe the most important room in our homes, this is where everything should be outstanding. There are many opinions on how to decorate a bathroom, but the premise for everyone is that things should work.
Luminaires have the function of opening and closing the water stream. And when the luminaries work, it is very much about appearances. Design can affect our feeling when using a bathroom, so you need to find just the right thing for you.
That is why we have a large selection of bathtubs, showers, bathroom furniture and loads of other things so you can find the exact look you want – and our consultants are ready to guide you, if you have any questions about your needs, so you can create the bathroom of your dreams.